Ex-Air valves are electrically controlled shuttle valves as opposed to a pump that uses a c-spool piloted by an air signal from the pilot valve. This type of valve can be directly mounted on the pump or remotely mounted.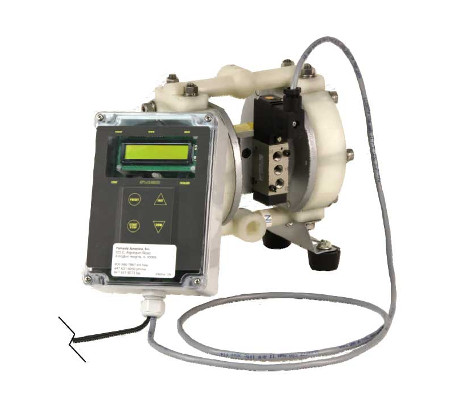 Yamada Batch and Speed Controllers
The YSC-3B and YSC-3EX electronic controllers are engineered to provide batch or speed control cycles of a solenoid-operated air-powered double diaphragm pump. The solenoid valve converts the pump to ex-air. When the solenoid valve is energised, one side of the pump receives air. When unenergised, the other side of the pump receives air. A cycle is defined as the emptying of both pump chambers, once.
The YSC-3B batch controller provides batch control cycles of a product at repeated intervals. Once the specific predetermined amount has been reached, the control signals the pump to shut off. The system offers 3 separate batch cycles and is programmed using a 7-button keypad.
The YSC-3EX speed controller can be set at speeds ranging from 1 - 400 cycles per minute. The sytem is programmed using a 4-button keypad.
Manufactured by: Yamada Corporation, Japan
FEATURES

BENEFITS

RESOURCES

VIDEOS

GET A QUOTE
Technical Specifications
Dimensions: 6-3/4" H x 4-3/4" W x 2-1/4" D
Enclosure construction: NEMA 4 w/sealing gland for cable and boot for switch
Weight: 1-1/2 lbs
Power consumption: 12 Watts
Voltage requirements: 120 VAC (Other voltages available, consult the factory)
Voltage output (to solenoid): 12 VDC 750 ma maximum
Operating temperature range: 40ºF to 100ºF
Speed range: 0.1 to 3600 seconds/stroke
Number of batches: 3 totally separate settings plus a "constant run" preset
Ex-Air Solenoid Valve Options
NDP-5/15 & DP-10/15 SERIES
YSC-3B Batch Controller
10S012-D Ex-Air Solenoid Valve
10S012-R Ex-Air Solenoid Valve
NDP-20/25 SERIES
YSC-3B Batch Controller
20S012-D Ex-Air Solenoid Valve
20S012-R Ex-Air Solenoid Valve
NDP-40/50/80 SERIES
YSC-3B Batch Controller
40S012-D Ex-Air Solenoid Valve
40S012-R Ex-Air Solenoid Valve
D = Direct Mount, R = Remote Mount
Easy to operate: No complicated programming required
Self contained: No external sensor input required
12VDC Single solenoid standard and optional output
NEMA 4 plastic enclosure: Suitable for use in wet or harsh environments
Speed or batch control: Capable of controlling cycle rate, and shutting off at a predetermined amount
Display: Cycles per minute, total cycles, or flow rate (in English or metric units)
Easy installation: Remove the standard c-spool assembly and install a solenoid valve to make it an ex-air pump
Your message was sent successfully. Thanks.