Designed as a complete wastewater sump for below-ground installation and for fitting with Sulzer abs pumps from the Piranha and AS ranges, the Sulzer abs Synconta is a fully functional wastewater or sewage lifting station that can be fitted with one or two pumps.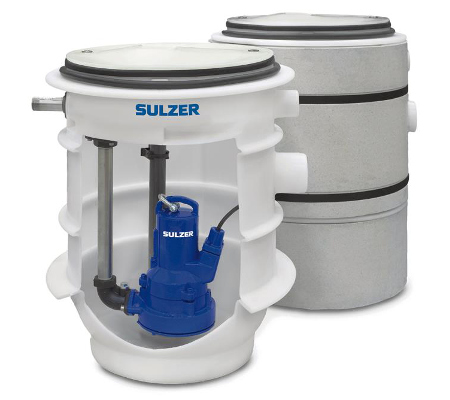 Sulzer abs Synconta
(Automatic pumping of sewage and wastewater)
Synthetic pre-fabricated sump, designed as a single or double pumping station for the automatic pumping of wastewater and sewage in accordance with EN 12050-1 from locations and areas below the backwash level.
Manufactured by: Sulzer Pumps, Germany
FEATURES

BENEFITS

RESOURCES

GET A QUOTE
Technical Details
Material of construction (with options): motor housing - C.I GG 25/ SS 304; rotor shaft - SS 420; impeller - C.I GG 25; volute - C.I GG 25
Head range: 0-35 m
Flow range: 0-70 m3/hr
Range: 601 to 902 L
Size range: up to 4 kW
Applications
Wastewater and sewage
Civil work
Key Features
Corrosion resistant synthetic collection tank
Simple pipe connection by means of DIN push-on connection system. 2 - 4 inflow ports
Standard ABS submersible pumps of the series AS and Piranha can be installed
Pump controls by automatic level control system
Easily transportable
Avoids major earth removal work
Simple pump installation and maintenance
Your message was sent successfully. Thanks.