The Pyxis ST-712 series of pH, ORP, and conductivity probes are designed to simplify installation, calibration, and in-use operation in industrial wastewater and cooling water applications.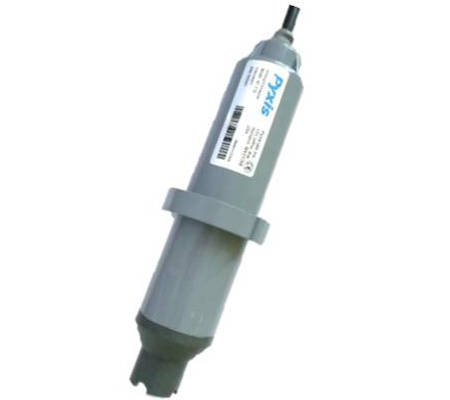 ST-712
(pH/ORP sensor with embedded transducers)
These probes have an embedded 4~20mA transmitter. The oversized platinum disk ORP and the flat pH bubble sensing elements increase resistance to contamination. The double salt bridge design with large junction capacity ensures a long sensor life with minimum maintenance.
Manufactured by Pyxis Lab Inc., USA
FEATURES

BENEFITS

VIDEOS

GET A QUOTE
Applications
Industrial wastewater treatment, cooling water treatment
Key Features
Dual embedded transmitters in sensor housing: 4-20mA and RS-485 supporting MODBUS
Longer maintenance cycles with high contamination resistance
Eliminates the need of pre-amplifier and transfer signal directly in 4~20mA or digital protocol
Specially designed pH/ORP electrodes tolerant to short time frozen during shipment or storage
Stainless steel solution grounding point on sensor to stay away from ground loop problems
Specifications: ST-710 (pH), ST-711 (ORP),and ST-712 (pH & ORP)
pH: 0 to 14 range with ATC, ± 0.01 pH unit precision
ORP: ± 1500 mV range, ± 1 mV precision
Response time: 95% within 5 seconds
Power supply 12 – 36 VDC, 1W
Output: 4 to 20 mA isolated, RS-485 isolated
Connector: custom IP67 water proof connector, 1.5 m (4.5 ft)
Operation pressure: up to 0.7 MPa (100 PSI) at 65°C (149°F)
Installation: custom ¾ inch tee with NPT thread
Storage temperature: -20°C to 60°C (-4°F to 140°F)
Operational temperature: 0°C to 40°C (32°F to 104°F)
Service life: ~2 years
Housing material: CPVC
Dimensions: 172 mm long, 36.6 mm diameter (6.8 inch long, 1.44 inch diameter)
Weight: 170 g (0.37 lbs)
Regulation: CE
Specifications: ST-720 (Conductivity)
Conductivity range: 0 μS/cm to 10,000 μS/cm, ± 0.1 μS/cm or 0.2% of the value
Sample temperature: 32°F to 104°F
Sample pressure: 0 to 100 PSI
Power: 12 V to 36 V DC, 1W
Storage temperature: -4°F to 140 °F
Output: 4 mA to 20 mA
RS: 485 Modbus
Dimensions: 6.8 inch long, 1.44 inch diameter
Installation: Pyxis Tee (ST-001), ¾ inch socket or threaded female union
Body material: CPV
Others: IP67, CE
Large conjunction capacity (compared to replaceable electrode design) leading to longer service life
Enhanced robustness when controller is away from sample point
Your message was sent successfully. Thanks.