The ST600 probe measures the optical density of bleach solutions using UV light.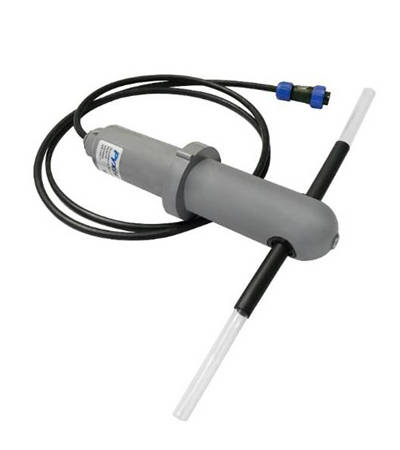 ST-600
(Bleach sensor)
The Pyxis ST-600 inline probe measures the concentration of bleach (sodium hypochlorite) and its optical density using a near UV light. The probe has a built-in reference light source and a reference light detector in addition to the main light source and the main light detector. The wet part of the probe is a 6 inch long, 7 mm OD Teflon tube. This configuration ensures longterm stable measurement of the bleach concentration. The ST-600 probe can be connected to any device that accepts an isolated or non-isolated 4-20mA input.
Manufactured by: Pyxis Lab Inc., USA
FEATURES

BENEFITS

RESOURCES

VIDEOS

GET A QUOTE
Applications
Bio-control for industrial water
Industrial oxidiser generation (i.e. hypochlorite/monochloramine)
Swimming pools and spas
Hospitals
Key Features
Measures disinfection liquids in high concentration, without dilution or reagent addition
Can conveniently be connected to the suction or discharge side of the bleach pump tubing using a union or a quick push-in connector
Can be calibrated with a PC or smartphone app via a Bluetooth/WiFi adapter
Eliminates color and turbidity interference
ST600 measures the percentage of concentration of bleach (0-16%)
ST601 measures the percentage of ClO2 (0-0.35%)
Realtime measurement
Oxidiser control systems
4-20mA and Modbus RS485 connection
Specifications
Method: UV absorbance
Power supply: 22-26V DC, power consumption: ~1W
Outputs: Isolated 4-20mA analog output, isolated RS-485 digital output, supporting MODBUS protocol
Dimensions: 6.8 inch length, 1.44 inch body diameter
Weight: 0.37 pounds
Installation: 7 mm OD Teflon tubing for measurement flow, customised ¾" tee in PVC also available when ordering
Material: CPVC
Pressure: Up to 100psi
Temperature: Operation 40°F to 120°F, storage 20°F ~140 °F
Cable length: 5 feet, terminated with IP67 connectors, 30 feet, 60 feet extension cables available
Calibration: Two-point calibration against standard solutions
Rating: IP66
Regulation: CE marked
Long maintenance and calibration cycle: 6 months typically
Digital displays via Modbus RTU
Your message was sent successfully. Thanks.