Yamada split manifold configuration is optional for NDP-5, DP-10, NDP-10, DP-15, NDP-15, NDP-20, NDP-25 which feature a unique, patented air valve design that ensures stall-free operation throughout product life.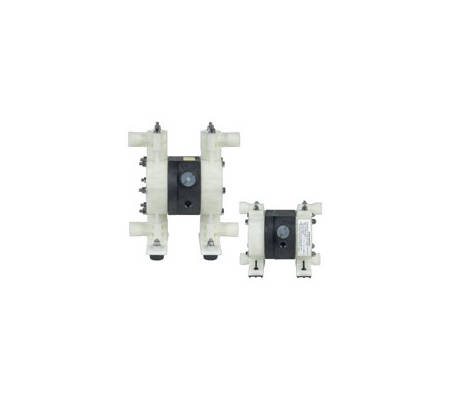 Split manifold pumps
(Multiple inlet and outlet configuration pumps)
These light-weight, split manifold double diaphragm pumps are designed such that the inlet and outlet ports can be configured to multiple combinations. They are ideal in applications where two similar or specific gravity fluids need to be pumped or combined, such as mixing two fluids. Moreover, if you need to pump two separate colours of ink into two separate locations and want to use a single supply and return pump within the process then a dual suction/dual discharge split manifold pump is the ideal solution.
Manufactured by: Yamada Corporation, Japan
FEATURES

BENEFITS

CASE STUDIES

GET A QUOTE
Technical Details
Port sizes: 1/4", 3/8", 1/2", 3/4", and 1"
Construction: Polypropylene, Aluminium, or Stainless Steel
Modes of operation:
Dual suction/dual discharge
Dual suction/single discharge
Single suction/dual discharge
Key Features
Explosion Proof
Split manifold
Seal less, no coupling or motor
Self-priming capability
Varied material of construction
Inlets and outlets can be configured in multiple ways making it ideal for pumping or blending two different solvents
Operated by compressed air therefore intrinsically safe in hazardous operating conditions
Constant pumping efficiency over time with lesser maintenance
Requires no lubrication
No worry of leakage
Allows for high suction lift even at dry start-up and with heavier fluids
Your message was sent successfully. Thanks.