The SP-360 handheld fluorometer is capable of reading Fluorescein at a range from 0 to 600 ppb. It is perfect for water treatment professionals seeking a simple to use, boiler fluorescence tracing handheld device.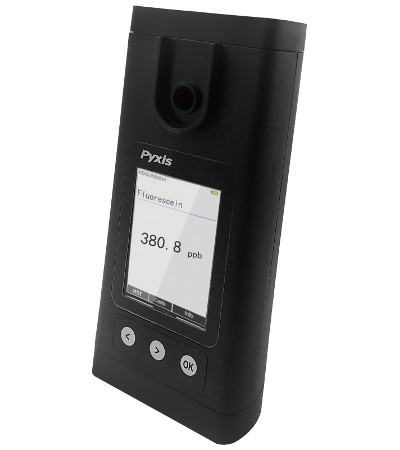 SP-360
(Handheld fluorometer)
This handheld fluorometer has automatic compensation abilities, thus eliminating interference. It offers a large colour graphic screen that can be read in direct sunlight. It is built to last with a robust, waterproof, and drop-proof design.
Manufactured by: Pyxis Lab Inc., USA
FEATURES

BENEFITS

GET A QUOTE
Key Features
Pre-calibrated to measure fluorescence in the range of 0 ppb to 600 ppb
Automatically selects the proper sensitivity mode according to the measured concentration range
Specifications
Fluorescein measurement range: 0 ppb to 600 ppb
Excitation wavelength: 470 nm LED
Emission wavelength: 520 nm
Wavelength accuracy: ±1 nm
Resolution: 0.1 ppb
Accuracy: ±1% for > 50 ppb, 0.1% ppb for < 10 ppb
Calibration solution point: 0, 50, 250, and 500 ppb
Battery: 9V alkaline battery
Battery life: ~3200 reading (480mAh battery)
Display: 320x240 pixels TFT-LCD, visible under direct sunlight
Dimensions: 160x74x33 mm (LxWxH)
Weight: 310g without battery
Temperature range: 40°F to 106°F (4°C to 41°C)
Humidity: 85% at 106°F (41°C)
Environmental: IP67, dustproof, and waterproof
Large colour graphic screen that can be read on direct sunlight
Your message was sent successfully. Thanks.