The MATRIX is a series of horizontal multistage centrifugal electric pumps. With an operating flow rate of up to 25 m3/hr and heads of up to 70 m, the compact Ebara MATRIX series of pumpsets are ideal for transfer of water and clean liquids in washing and industrial plant applications.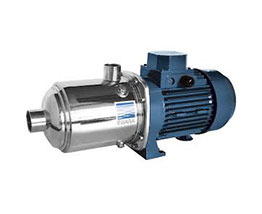 MATRIX
(Pressure boosting units used in industrial, heating, and cooling applications)
The Ebara MATRIX pumps are ideal pressure boosting units used in industrial, heating and cooling applications. Their construction is strong and compact, and can operate in a pressure range of up to 10 bar.
Manufactured by: Ebara Corporation, Japan
FEATURES

RESOURCES

GET A QUOTE
Technical Details
Size range: G1,G11/4", G11/2", G2"
Range: MATRIX 3-5-10-18
Flow range: 0- 25 m3/hr
Head range: 0- 70 m
Pressure range: 0-10 bar
Material of construction: pump casing - AISI 304; impeller - AISI 304; shaft - AISI 304
Operating temperature of liquid: -15°C to +110°C
Applications
Industrial washing
Pressure boosting units
Industrial plants
Distribution and treatment of water
Heating and air conditioning
Cooling and chiller
Irrigation
Key Features
Strong and compact construction
Available in various versions and models
Your message was sent successfully. Thanks.