The Pyxis LSP series are pressure-based submersible level sensors offered in 316L (LSP-100), PVC (LSP-200), and PVDF (LSP-300) formats for a variety of liquid level applications.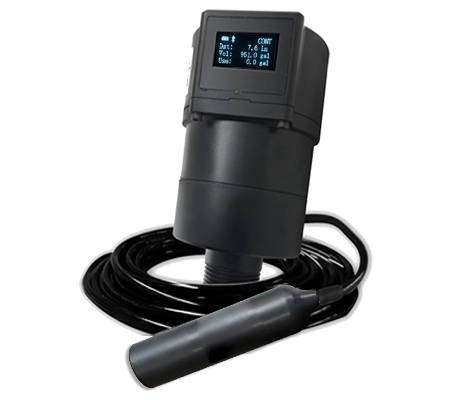 LSP-300
(PVDF pressure transducer level sensor)
These sensors provide continuous level measurement up to 393 inch (32.8 feet or 10 meters) with a 4-20 mA analog output and a digital Bluetooth output. They can be configured via the uPyxis® app on mobile phones or PCs, and record up to 6 months of inventory data for wireless transfer via the app to email. The sensors can be powered by 4 AA Li/SOCl2 batteries or a 24 V DC external power supply. This battery-powered and Bluetooth-enabled level sensor is ideally suited for applications where signal/power wiring may be difficult or unavailable to install. A 1.3-inch OLED display and four push-buttons are also included on the sensor for display and setup. These submersible liquid level sensors are well suited for water, wastewater, oil, and chemical tank applications. The LSP series may be installed on the top of a tank or with the LSP series wall mounting bracket for easier visibility.
Manufactured by: Pyxis Lab Inc., USA
FEATURES

BENEFITS

RESOURCES

GET A QUOTE
Applications
Water level, chemical level, process liquid level or other applications requiring accurate and continuous liquid level measurement or control
Key Features
0 to 10 meters (0 to 32.8 feet)
Accuracy: 0.15% of reading or 0.5 mm
Battery powered and/or 24V Power and 4mA to 20mA/RS485 output
Requires 4-AA LiSOCl2 batteries (Pyxis P/N 50731)
Installation: 1" MNPT thread with 2″ reducer and gland wall mounting bracket available
Specifications
Power supply: 4 AA Li/SOCl2 or 24 V DC, 2W
Output: Bluetooth 4.1, 32 feet (10 m) line of site/RS-485 MODBUS and 4-20 mA
Data storage: 6 months (60 minutes per log measurement)
Cable length: 32.8 feet (10 m)
Range: 0 to 393 inch H2O (0 to 10 mH2O)
Resolution: 0.02 inch (0.5 cm)
Accuracy: ±0.2% of the range
Stability: ±0.2% URL/year
Measurement interval: Continuous 3 min, 10 min, 60 min, configurable
Installation: 1 inch NPT
Weight: 3.1 pound (1400 g)
Enclosure material: Polycarbonate (PC)
Transducer material: LSP- 100 = 316L stainless steel transducer, LSP-200 = PVC transducer, LSP-300 = PVDF transducer
Cable material: PTFE
Temperature: working: 14°F to 140°F (-10°C to 60°C), storage: -4°F to 158°F (-20°C to 70°C)
Enclosure rating: IP66
Transducer rating: IP68
Regulation: CE
Upload data via a smartphone and the uPyxis app
Visual display on sensor
Your message was sent successfully. Thanks.