The Pyxis LS series general purpose ultrasonic sensors are innovative ultrasonic liquid level sensors that replace float, conductance and pressure sensors that fail due to contact with dirty, sticky, and scaling liquids in small, medium, and large capacity tanks.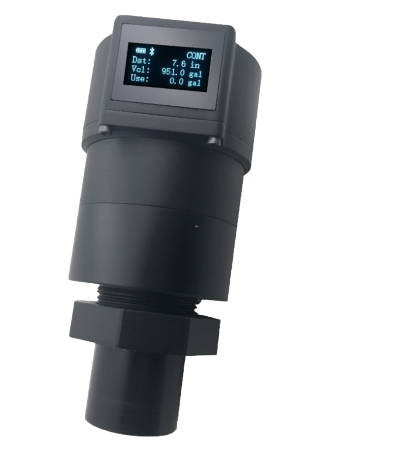 LS-202
(Ultrasonic level sensor)
Liquid level sensors that can be used in both open and closed tanks, these sensors provide continuous level measurement up to 78 inches (6.6 feet or 2 m) with a 4-20 mA signal output. They can be configured via the free uPyxis® app. The sensor can be powered by 4 AA alkaline batteries or a 24V DC external power. This battery powered, and Bluetooth-enabled digital output level sensor is perfectly suitable for applications where wires are difficult to layout, resulting in substantial monetary benefits during installation. A 1.3'' push button OLED interface allows for device configuration and instant access to process data. This non-contact liquid level sensor is well suited for corrosive liquids and can be used for cooling towers, boiler day tanks, other chemical feed applications. LS-202EX is the Class 1 Div 2 Certified version of this platform.
Manufactured by: Pyxis Lab Inc., USA
FEATURES

BENEFITS

RESOURCES

GET A QUOTE
Applications
Water level sensors
Water and process chemical tank level sensors
Liquid level transmitters
Other applications requiring accurate and continuous liquid level control or liquid level measurement
Key Features
Dual embedded transmitters in sensor body for selection: 4-20 mA or RS-485 supporting MODBUS
Bluetooth® version 4.1 for measurement result output and configuration (100+ feet line of site)
1.3'' OLED and 4 push-buttons for measurement display and configuration
Two power supplies: 4 AA alkaline batteries or 24V DC external power, and smart switch capability
Easy and quick configuration via the uPyxis® app on mobile phones or PCs
Can be paired with Pyxis BTA-100 or BTA-400 Bluetooth gateway to output 4-20 mA PVDF transducer and 6P polycarbonate enclosure for corrosive liquids
Automatic temperature compensation for accurate measurement despite condensation
Accuracy: 0.15% of reading or 0.5 mm
Specifications
P/N: 54002
Range: 4 – 78 inches (0.1-2 m)
Accuracy: ±0.15% of range
Resolution: 0.2 inch (0.5 mm)
Dead band: 4 inches (10 mm)
Configuration: uPyxis® app in mobile phones
Power supply: 4xAA batteries/24V DC, 1W max.
Signal output: Bluetooth® version 4.1 4-20mA, RS485 MODBUS
Enclosure rating: IP 65
Process mount: 1'' NPT
Storage temperature: -4°F to 158°F (20°C to 70°C)
Operational temperature: 14°F to 140°F (10°C to 60°C)
Enclosure material: Polycarbonate
Transducer material: P VDF
Dimension: 6.8inch (172mm) long, 3.1inch (80mm) diameter
Weight: 550g (1.3 lbs)
Regulation: CE
(With Pyxis' continuous improvement policy, these specification are subject to change without notice.)
Visual display on sensor
Battery life up to 9 months due to the ultra-low power design and smart power management
Your message was sent successfully. Thanks.