Iwaki's Hi-Cera pump prevents clogging and sticking with its unique valveless construction. It is suitable for transfers of viscous liquids and slurries.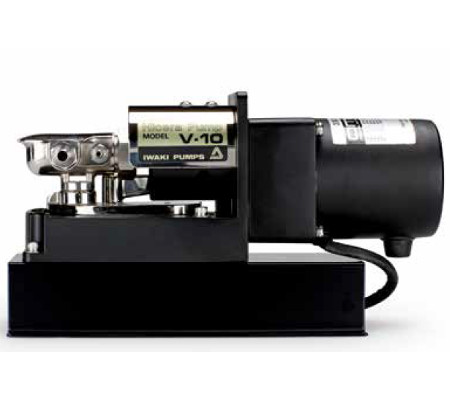 Hi-Cera
The Hi-Cera pump is a compact metering pump that uses a fine ceramic plunger to transfer fluids. The precision micron-matching on the main ceramic parts ensures a high degree of discharge accuracy. The versatility of the Hi-Cera pump makes it ideal for micro-chemical feeding as well as high viscosity liquid feeding.
Manufactured by: Iwaki Co. Ltd., Japan
FEATURES

BENEFITS

GET A QUOTE
Technical Details
Discharge capacity: 1400/1682 mL/min
Discharge pressure: 0.7 MPa
Main materials of construction: Alumina ceramic, SiC, SUS316
Required power range: 6-40 W
Liquid temperature range: 0˚C-120˚C
Viscous liquid: up to 20000 mPa·s
Applications
Medical devices
Cleaning equipment
Food equipment
Fuel cell
Key Features
Ultra-high precision dosing of +/- 0.5 %
Discharge into a vacuum and suction from high pressure sources
Higher corrosion resistance
Compact design - ideal for built-in applications
Compact design
High discharge accuracy
Suitable for handling a wide range of corrosive chemicals
Your message was sent successfully. Thanks.