Hi-tech electromagnetic series of metering pumps are designed for precise dosing and metering in industrial processes such as chlorine dosing, electroless plating, anti-scalant dosing in boilers.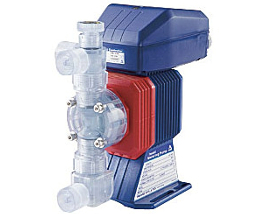 EHN
(Electromagnetic metering pumps with precise digital control)
Iwaki's EHN series of electromagnetic metering pumps are equipped with precise digital control and multi-voltage capabilities. Suitable for providing precise dosing and metering for industrial applications such as such as chlorine dosing, electroless plating, antiscalant dosing in boilers, the EHN series of pumps are simple to operate, and are dust and water-proof (IP66), as well as chemical resistant. The display and keypad are mounted within the enclosure of the pump, which makes for an excellent water-proof design. The EJ series metering pumps are specifically engineered for high speed performance; these pumps operate at 360 strokes-per-minute.
Manufactured by: Iwaki Co. Ltd., Japan
FEATURES

RESOURCES

GET A QUOTE
Technical Details
Material of construction (with options): pump head - PVC/SUS 316/PVDF; diaphragm - PTFE coated EPDM; valve - alumina ceramic/hastelloy C
Pressure range: 0.2-1 MPa
Stroke speed: up to 360 spm
Flow range: 2.28-27 l/hr
Tube range: 6x8, 9x12
Applications
Chlorine dosing
Electroless plating system
Antiscalent dosing in boiler
Metering dosing
Key Features
Manual as well as external control operation
Water/dust proof structure/IP 66 equivalent
Small flow capacity models (EHN-11, 16 & 21)
High resolution digitised controller for stroke speed adjustment by 1 spm steps enabling fine control over flow rate
Multi voltage operation (AC 100 to 240 V)
High compression pump head
Your message was sent successfully. Thanks.