AMP magnetic drive process pumps are manufactured with a rugged, ductile cast iron housing with corrosion resistant liners.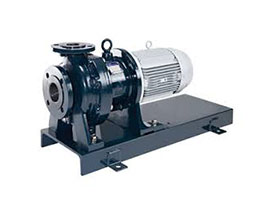 AMP
(Magnetic drive pumps with improved tolerance to abnormal operating conditions)
The AMP series are magnetic drive process pumps with polypropylene wet ends, and features a unique configuration which gives improved tolerance in abnormal operating conditions. A ductile cast iron shell adds both strength and durability to the polypropylene wet ends. The rear casing which is subject to the highest stress, is reinforced with an FRP cover to increase strength. The AMP's non-contact design reduces heat generation and secures lubricants routes while exhibiting an outstanding durability to air ingress to the suction and its modular design reduces maintenance. Adjustments such as centering or checking clearances are not required and any worn part can be replaced individually, which reduces maintenance costs. The high magnetic power of rare earth magnets prevents the magnet capsule from coming into contact with the thrust ring of the rear casing, thus preventing melting of components due to heat generation. Designed for the most demanding of liquid transfer applications, the AMP is suitable for transfer of a wide range of light chemicals, both acidic and alkaline.
Manufactured by: Iwaki Co. Ltd., Japan
FEATURES

BENEFITS

RESOURCES

VIDEOS

GET A QUOTE
Technical Details
Head range: 12-35 m
Material of construction: front casing - CFRPP; rear casing - CFRPP; impeller - CFRPP; magnet capsule - CFRETFE
Flow range: 200-417 l/min
Applications
Pumping acidic to alkaline solutions
Key Features
Highly durable structure
Unique design prevents abnormal operation
Dry running is not permitted
Back pull-out system: allows easy maintenance and inspection without removing piping
Back pull-out system: allows easy maintenance and inspection without removing piping
Modular design
Non contact system greatly improves resistance against abnormal operating in comparison with conventional magnetic drive pumps
Your message was sent successfully. Thanks.