An integrated hardware and software IoT solution for sustainable manufacturing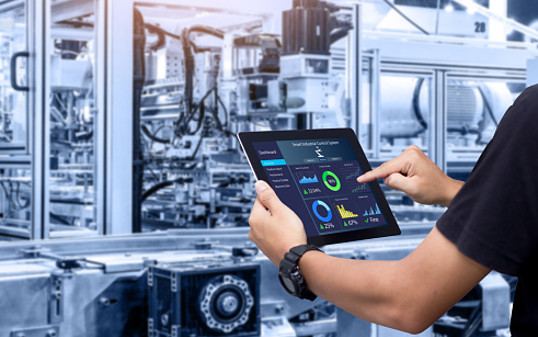 axisCONSERVE4.0 is an Industry 4.0, cloud based, IoT enabled analytics solution for industrial utilities that delivers improved performance, significant reduction in cost, increased asset life and contributes to your sustainability objectives.
Do you want to:
Reduce 20 % energy in compressors?
Improve 5% boiler efficiency?
Reduce 15% in max electricity demand?
Eliminate ETP upsets?
Looking for more such sustainable initiatives?
Expertise on all basic utilities
Boiler/Thermic Fluid Heaters
Easy identification of leakage by monitoring and comparing feedwater and steam flow rate
Real time monitoring of efficiency drop helps in identifying and rectifying losses because of insulation damage, soot deposition, etc.
Improvement in boiler efficiency through real time monitoring of flue gas – oxygen and temperature
Water/Effluent Treatment Plants
Improve performance and life of membranes through continuous monitoring and comparison of permeate flow and temperature
Helps eliminate ETP upsets by monitoring critical parameters such as TDS, temperatures, permeate flow, etc.
Early warnings on potentially non-compliant discharges
Compressors
Improved utilization and reduction in energy consumption through regular monitoring loading/unloading patterns
Enhance the performance and life of the moving components by continuous monitoring of specific energy consumption
Chillers
Insights from increase in energy consumption (kW/TR) to check for maintenance in insultation, pumps and motors
Greatly enhance operating life and efficiency through routine monitoring of approach temperatures
Pumps
Insights on current drawn, temperature, vibration analysis to pre-determine potential failures/breakdowns
Enhanced maintenance scheduling and improved energy efficiency resulting in improved pump life and cost savings
Diesel Generators
Savings through monitoring and alerting of theft/leakage
Early warnings by analysing noise level variations, overheating and usual engine temperature
Electrical Energy/Power Management
Reduction in energy losses through reduction in equipment idle time
Reduction in maximum demand electricity charges through better load monitoring and scheduling
Reduction in energy consumption through monitoring of distribution/transmission and power factor
Empowers with actionable insights to quickly improve performance
Deviation analysis
Performance analytics
Energy consumption analysis
Benchmarking
Alerts/Notifications
Easy onboarding
Consolidated dashboards
Data security and protection
Reports
Business system integration