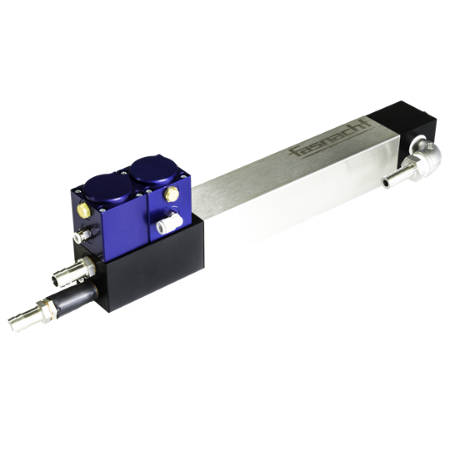 Viscosity controllers
(For viscosity measurement and temperature control)
Swiss-made viscosity measurement and temperature control systems for water and solvent based inks. The values of various parameters are measured direcly in the ink supply line of the printing unit. This viscosity controller works on the dropping body measurement principle. The Fasnacht viscosity controler also has an efficient cleaning system, which ensures that the measuring unit and supply line can be cleaned automatically.
Manufactured by: Fasnacht Dynamics AG, Switzerland
OVERVIEW

FEATURES

BENEFITS

RESOURCES

GET A QUOTE
The purchase decisions of the modern-day FMCG consumer is dependant largely on the print quality of the packaging material. Uneven colour shades on the printed substrate is a commonly occurring phenomenon, resulting in low quality printed material - which might influence a buyer negatively. Ink viscosity plays a vital role in ensuring uniform colour shades across the printing substrate. Consistent printing and optimum use of ink and solvents can be realised only with stable viscosity.
Technical Details
Supply voltage: 24 V DC
Supply pressure for air: 6 bar
Solvent pressure: 1 bar (+/- 20%)
Ink connections: 1/2" hose/ 3/8" thread
Measuring principle: Bypass, dropping body
Ink quantity required: min 2 l/min at (20 mPa-s)
Displayed viscosity on PC: in cup seconds
Viscosity measurement range: 5-400 mPa-s (as per dropping body)
Meas and control tolerance: <1% of viscosity
Alarm monitoring: yes
Dimensions of measuring unit (W x H x D): 80 x 453 x 56 mm
Dimensions of control unit (W x H x D): 21 x 90 x 67 mm
Key Features
Based on dropping body measuring temperature principle
Viscosity values are directly taken from ink supply
Integrated hold function for stabilising viscosity at actual values
Automatic cleaning
Possible interface with machine control
Value for money investment
Reduced downtime; quick and easy installation
Reliable and high precision viscosity reading and measurement
Low maintenance
ATEX conformity; can be safely used in explosive environments
Your message was sent successfully. Thanks.