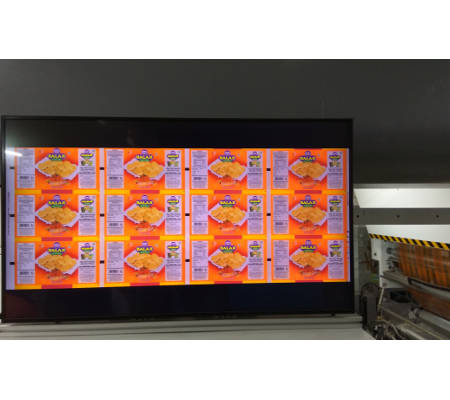 ViewAXIS Tera
(Full repeat web viewing system)
The ViewAXIS Tera is a full print repeat web viewing system for superior process monitoring. It captures sharp, high resolution, 'near print' quality images at full production speeds using fast and high resolution line scan cameras. This allows the operator to monitor the entire repeat precisely and efficiently. The output is displayed on a 55" 4K LED screen with true colour display, enabling the operator to locate the defects and identify errors quickly. The ViewAXIS Tera can show a stationary image of the entire width of the print web. By looking at this image, the operator can easily spot errors and defects and take corrective action, thus reducing wastage of print material. Magnification and other image control features assist the operator to inspect the repeat minutely, thus helping improve print quality.
Manufactured by: A.T.E. Enterprises Private Limited, India
OVERVIEW

FEATURES

BENEFITS

RESOURCES

CASE STUDIES

VIDEOS

GET A QUOTE
Conventionally during production, an operator would constantly check the print quality of the substrate with the naked eye. However, at high web speeds, this is impossible. Conventional web videos allow the operator to view a stationary image of only a section of the printed substrate. With constantly increasing demands for superior print quality and reduced material wastage, converters need a system to monitor the full print repeat. The ViewAXIS Tera ensures superior print quality, reduced material rejection, and improved productivity.
Technical Details
Monitor: 55" display, 22" touch screen monitor for operation
Camera resolution: >170 DPI
Viewing area: dynamic
Camera unit: line scan camera
Flash unit: LED Brightfield
Area magnification: 4x digital zoom
Print speed: 500 m/min
Power supply: 230V AC 50 Hz
Key Features
Instant error identification
Magnification and brightness control function for better image viewing
Real time split screen function for traffic lights/cross marks comparison on both edges
Image rotation option and horizontal/vertical flip options
Bright white light LED strobe with variable intensity
1:1 image viewing
Fit to screen viewing
Repeat scan mode and selection of critical areas
Online diagnostics and support
System can be used for any type of roll to roll printing applications
Supports all materials like BOPP, Polyester, aluminium foil, LDPE
Interactive user interface
Precise and efficient web monitoring
Full print repeat monitoring
Better image control
Low power resolution
Scanning of critical positions
Suitable for different types of material
Easy to operate
Reduces waste, start-up time, and improves productivity
Your message was sent successfully. Thanks.