Best-in-class real-time web viewing that delivers superior process control. ViewAXIS Mega 2.0 delivers sharp, accurate, and magnifiable images at high print speeds. This enables the operator to locate defects and identify errors and take immediate corrective action. This reduces waste and ensures enhanced print quality which leads to an improved bottom line.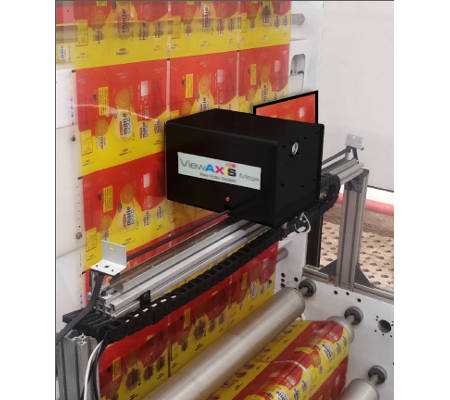 ViewAXIS Mega 2.0
ViewAXIS Mega 2.0 is a computerised web viewing system with high resolution digital cameras. It uses state-of-the-art technology that captures high resolution images. A motorised traverse and touch-screen controlled operation allows operators to closely scrutinise the printing web. Smooth travel along the traverse and magnification in the region of interest add flexibility and make it easy to inspect a fast moving print web. Icon-based graphical user Interface (GUI) makes it easy for the operator to take further actions. The ViewAXIS Mega 2.0 uses a low power consumption LED strobe that can flash with variable intensity. Features such as image rotation, horizontal and vertical flip aid in better web viewing. Iris control for dynamic exposures allow for capturing sharp, well-focused images. All this makes the ViewAXIS Mega 2.0 well-suited for any type of roll-to-roll application for any packaging substrate. With the ViewAXIS Mega 2.0, operators can quickly locate issues such as registration, perforation, voids, streaks, missing print, and colour variations quickly and take appropriate corrective action.
Manufactured by: A.T.E. Enterprises Private Limited, India
OVERVIEW

FEATURES

BENEFITS

RESOURCES

CASE STUDIES

VIDEOS

GET A QUOTE
The printing industry has become very competitive with ever escalating demands for improved print quality, higher efficiency, reduced wastage, and lower use of expensive raw material. However, at higher web speeds it becomes impossible to examine the print web by an unaided human eye. A video-based web monitoring system – such as ViewAXIS Mega 2.0 – is therefore necessary to locate print defects on a printing machine. A video based web monitoring system allows operators to view a stationary image even though the web is actually moving at a high speed, and zoom in to inspect the print quality.
Technical Details
No. of memory positions: 4
Monitor: 22" full HD, LED-backlit, touch screen
Camera resolution: 1920 x 1200 pixels
Viewing area: 128 mm (w) × 80 mm (h)
Camera unit: Matrix CMOS
Flash unit: LED strobe
Area magnification: 4x digital zoom
Print speed: maximum 1000 m/min
Power supply: 230 V AC, 50 Hz
Dots per inch (DPI): 381
Key Features
LED strobe with variable intensity
Sharp and high resolution image
Digital zoom
Iris adjustment dynamic exposure and time functionality
Unlimited job memory
Single monitor for image and controls/adjustment
Motorised traverse
Image rotation, vertical and horizontal flip
Live storage and recall
4 'X' and 'Y' directions memory positions for easy and quick access
Icon based GUI
Customised solution offered multi camera and multi monitor systems. Speak to us for any other customised requirements
X-ray vision helps monitor images, layer by layer
Reduced material wastage
Reduced set up time
Low power consumption flash
Improved productivity
Improved customer satisfaction due to consistent print quality
Your message was sent successfully. Thanks.