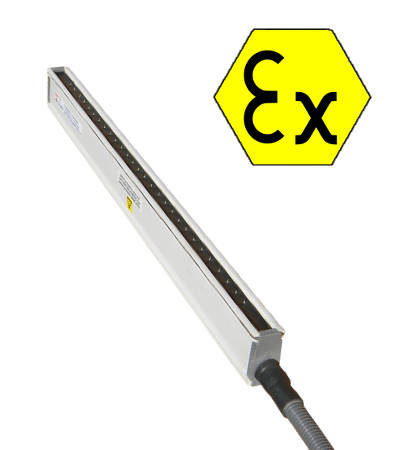 Valstat® VR20X static charge eliminator
(ATEX certified static eliminators)
Valstat® VR20X static charge eliminators are highly efficient static eliminating bars, designed for neutralising electrostatic charges from fast-moving plastic films, paper, and other non-conductive substrates (webs) in explosion-prone environments. A row of electrodes, provided along the active length of the bar, generate ions of both polarities, ensuring that positive and negative charges are effectively neutralised. Valstat® PS60C power sources are designed to provide high voltage AC supply to Valstat® VR20X static eliminating bars. They give stable high voltage output even under severe operating conditions.
Manufactured by: A.T.E. Enterprises Private Limited, India
OVERVIEW

FEATURES

BENEFITS

RESOURCES

VIDEOS

GET A QUOTE
Explosion proof Valstat® VR20X static charge eliminators (ATEX certified) are highly efficient static eliminating bars, designed for neutralizing electrostatic charges from fast-moving plastic films, paper, and other non-conductive substrates (webs) in explosion-prone environments. Valence Electrons is first Indian manufacturer to offer ATEX certified static charge eliminators.
Key features
Certified for use in hazardous environments
Shock-less and spark-free; no shock when touched and no sparks if accidentally earthed
Safe even when power supply is off; by passive discharging through electrodes
Ease of installation through sliding brackets for mounting
No maintenance required, except for periodic cleaning
Very low power consumption (less than 40 VA)
230 V, 50/60 Hz, single phase input
Stable HV output, with in-built current limit
Three HV output connectors for VS 20 bars
Mild steel fabricated, powder coated enclosure
Shock-less and spark-less
Sturdy, reliable construction
Maintenance free, except for occasional cleaning
Easy installation, commissioning
Compact, rugged, dust proof, powder coated construction, fabricated of mild steel
Very low power consumption – 50 W
Provides stable high voltage output even under severe operating conditions
Your message was sent successfully. Thanks.