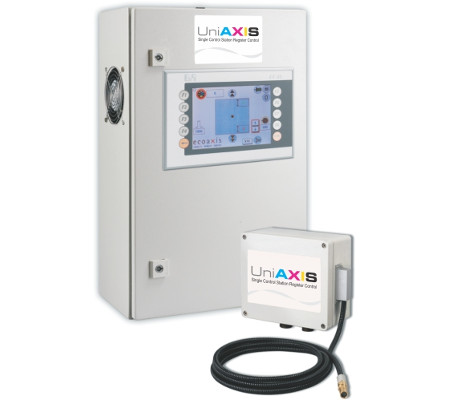 UniAXIS
(Offline register control system)
UniAXIS can be used to control processes such as cutting, printing, measuring, laminating and coating. UniAXIS can control processing units in line with a printing press or a rotogravure unit in-line with a CI Flexo press. Offline processes such as stand-alone die cutting machines or re-printing of pre-printed webs can also be controlled by UniAXIS through special in-setting algorithms. UniAXIS also has the functionality to measure the repeat length during the printing process. The choice of a fibre optic or a camera-based sensor allows the recognition of nearly all kinds of register mark configurations. Mark patterns are configurable. High precision in measurement, control accuracy, and reliability are unique features of the UniAXIS system.
Manufactured by: A.T.E. Enterprises Private Limited
OVERVIEW

FEATURES

BENEFITS

RESOURCES

GET A QUOTE
A.T.E.'s UniAXIS provides fibre optic sensor and matrix camera-based sensing and control for all types of printing machines and printing presses. It is an improvement over its highly successful predecessor, the SYNCO register control system. It reduces wastage and helps improve the bottomline. With over 35 years of domain expertise A.T.E.'s register control systems have set a new benchmark for robustness and dependability in the print and packaging industry.
Key Features
Presetting saves time and reduces material wastage during job set ups
Oscilloscope function indicates amplitude of detected register marks
Continuously shows real time behaviour
Versatile and adaptable to specific job needs
Automatic mark recognition for detection of registration marks
Online chart recording helps in verifying register performance and inspects abnormal register variations
Job memory saves time for repeat jobs
Wastage indication alarm, when register error exceeds set tolerance
User friendly, multi-lingual GUI
Online diagnostic and service support
Customised software enables exact adaptation of register control system
Technical details
Min. speed: 5 m/min
Max. speed: 600 m/min
Control accuracy: 0.04 mm
Measurement accuracy: 0.001 mm
Errors: lateral and longitudinal
Voltage: 230 V AC
Frequency: 50 ~ 60 Hz
Presetting: optional
Detected register mark types: web and rectangular
Sensor type: fibre optics/matrix camera
Reduces wastage
Ease of use
Maximum operational flexibility
Process optimisation results in enhanced productivity
Single solution for all types of printing machines and printing presses
Longer MTBF
Your message was sent successfully. Thanks.