Handheld lightning fast LED stroboscope for precise print monitoring of critical areas of interest. The operator can check and take the corrective action to reduce the print material wastage.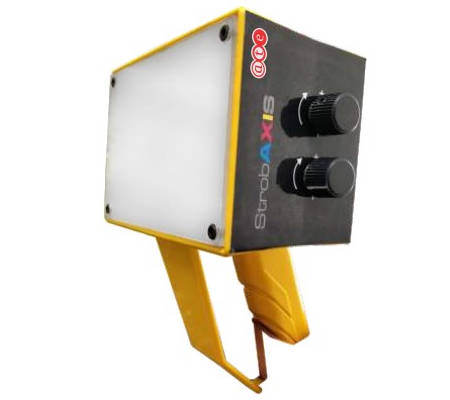 StrobAXIS handheld
(Lightning fast handheld LED stroboscope)
Through StrobAXIS, the moving web is illuminated by a periodic series of sharp and short flashes. At a certain frequency, the print web appears to be stationary or 'near stationary', allowing the operator to check the print web for any print errors. The operator can then take necessary corrective action to reduce expensive print material wastage. The StrobAXIS' high powered and energy efficient bright white LEDs provide uniform illumination. This allows operators to identify print errors on the web and take corrective action to prevent wastage. The StrobAXIS' precise strobe control means that operators can easily match the frequency of the print web. An LCD panel is provided for display and setting/adjusting of illumination intensity and flash frequency parameters. StrobAXIS helps in detecting defects such as colour streaks, voids, bleeding, drags and holes, missing print, etc. StrobAXIS is designed for various applications including printing, labelling, slitting, doctoring, die-cutting, and embossing, among others.
Manufactured by: A.T.E. Enterprises Private Limited, India
OVERVIEW

FEATURES

BENEFITS

RESOURCES

GET A QUOTE
Over the past few years, the print and packaging industry has become very competitive; the impetus being on improved print quality and reducing wastage of expensive raw materials. Material rejections increase rework, thus negatively affecting productivity and therefore, profitability. Printers and converters are increasing production speeds, resulting in shorter job runs. The shorter job runs and higher production speeds lead to operators/printers being more agile to spot print defects. StrobAXIS is a new addition to the operator's arsenal to combat print defects. At high production speeds, the lightning fast StrobAXIS illuminates the moving web with a series of periodic sharp and short flashes. At a certain flash frequency, the web appears to be stationary or near stationary, allowing the operator to check the web for print errors. The operator can then take corrective action to reduce print material wastage.
Technical Details
Flashes per minute (FPM): 30 - 15000
Maximum web speed: 2000 metre per minute
Variable intensity flash duration: 10 - 150 µs
Coverage area: 150 x 150 mm
Type of light: Flood light
Type of LED: Bright white LEDs
Power consumption: 12 Watts
Power requirement: 230 VAC
Weight: Approximately 1 kg
Automatic setting: Last configuration stored automatically
Key Features
Precise web monitoring
Instant error identification
Powerful high bright white light LED
Digital stroboscope
LCD panel for setting/adjusting parameters (illumination intensity and flash frequency)
High temperature compatibility
Accurate strobe control
Bright and uniform illumination with energy efficient LED strobe
Quick and easy intensity and FPM adjustments
Fast aperture
Sharp visibility, high accuracy
Handy yet robust
Light weight and easy to handle
Long life
Your message was sent successfully. Thanks.