A.T.E.'s AlygnAXIS provides fast, precise, real time, and responsive register control for rotogravure printing machines, boosting productivity and profitability.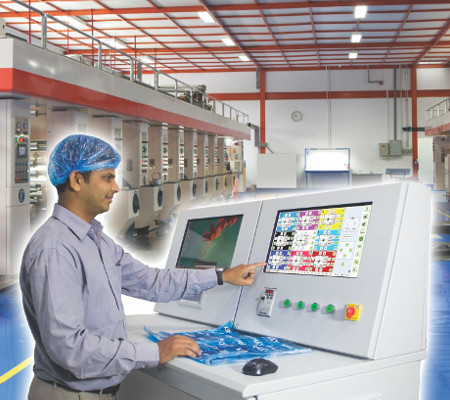 AlygnAXIS Automatic Register Control System
AlygnAXIS is designed to increase productivity, maximise operational flexibility, and reduce waste. AlygnAXIS has one of the fastest correction signals among register control systems. This, coupled with reliable hardware and software ensures accurate measurement, excellent control, and consistent performance, which ensures consistent print quality and reduced waste. It is packed with novel features and a user-friendly GUI.
Manufactured by: A.T.E. Enterprises Private Limited, India
OVERVIEW

FEATURES

BENEFITS

RESOURCES

CASE STUDIES

VIDEOS

GET A QUOTE
Print quality, productivity, reduction of waste and cost competitiveness are the main challenges faced by the print and packaging industry. Responding to these challenges, A.T.E. has developed AlygnAXIS - an upgraded version of its highly successful predecessor, Alygn. With over 35 years of domain expertise, 200+ domestic and international installations through OEMs and end users in India, Europe, China and Middle East, AlygnAXIS, has proved itself to be robust and dependable.
Technical details:
Min. speed: 5 m/min
Max. speed: 600 m/min
Control accuracy: 0.04 mm
Measuring accuracy: 0.001 mm
Number of print stations: up to 16
Errors: lateral and longitudinal
Voltage: 230 V AC
Frequency: 50 ~ 60 Hz
Presetting: optional
Detected register mark types: web and rectangular
Sensor type: fibre optics/matrix camera
Key features:
Fibre optic/matrix camera based sensors
Automatic mark recognition (AMR)
Presetting of register compensator roller or presetting cylinders
Absolute encoder presetting
Online chart recording
Use of key colour or previous colour measurement mode with automatic changeover between the two
Possibility to measure and correct differences in print position across width (skew and shrinkage)
Provision to save and recall all settings of printed jobs
Set points can be adjusted automatically
Provision to generate reports on printed jobs for quality, quantity
Interactive icon based and multi-lingual GUI
Online diagnostic and service support
Industry 4.0 compliant software
Reduces start up waste
Quick job set up
Improves printing quality
Process optimisation improves productivity
Versatile and adaptable to job specific needs
Ease of use
Less hardware results in longer MTBF
Your message was sent successfully. Thanks.